Perks of Having Lash Extensions
We are giving you more insight into lash extensions and the perks to help you decide if you're ready to invest.
LASH EXTENSIONS
Beauty trends are constantly evolving, and staying in the know can often be challenging. One of the latest trends in the beauty world is eyelash extensions, and you may be asking yourself, are these right for me? Today, we are giving you more insight into lash extensions and the perks to help you decide if you're ready to invest.
Eyelash extensions are semi-permanent fibers professionally attached to your natural lashes to give you a fuller, longer, and darker look. Few of us are blessed with natural and full eyelashes, but extensions give you that effortless look.
Save You Time
One of the biggest perks of getting eyelash extensions is waking up every day with ready-to-go lashes that look long and flawless. For many of us, eye makeup takes up a considerable portion of our makeup application, but with extensions, you no longer have to apply mascara, and many people cut out liner, too! Time-saving is a massive perk in our book.
Confidence Booster
Look great, feel great, am I right? Lash extensions give your eyes an instant lift allowing you to look and feel brighter. Long lashes give your eyes pop and give you confidence in your everyday look.
Customizable
One of the biggest perks of lash extensions is their ability to be customized based on the look you are going for. They can be customized to be natural and subtle or to have a very dark and dramatic look. It's completely dependent on your style!
Waterproof
Have you ever walked past a year and noticed you have black smudged mascara under your eye? Whether it's sweat, water, or tears, running mascara is immense pain in the you-know-what. With lash extensions, you can kiss the worry of messy mascara goodbye.
Painless
The process of applying lash extensions is entirely painless and non-invasive. I know many women shy away from these procedures for fear of the pain during the procedures, but the good news is this is quick and easy!
Money Saving
There are many different products on the market promising full lashes and lash growth and let's be honest, how many of them deliver? I am guilty of spending too much money on the "best" mascaras and constantly trying new products to make my lashes look amazing. Lash extensions can guarantee that look you've been going for while saving you from investing in new products.
Eyelash extensions are a game-changer in the beauty world, helping women feel confident while saving them time and money. These are just a few perks that lash extensions can have on our beauty regime.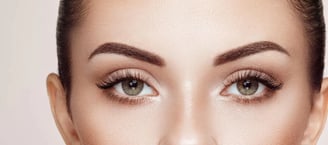 Perks of Having Lash Extensions