Lash Ale Eyelash Cleanser: The Ultimate Shampoo for Sensitive Skin
Dive into the world of gentle eyelash care with our spotlight on the Lash Ale Eyelash Cleanser. Formulated especially for sensitive skin, this product promises deep cleansing without the itchiness or irritation. Discover its unique ingredients, benefits, and why it might just be the perfect addition to your eyelash care routine.
LASH EXTENSIONS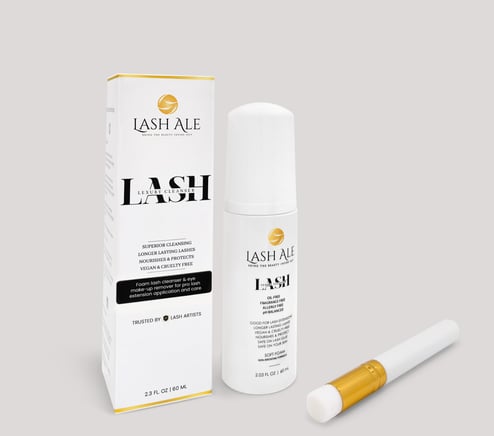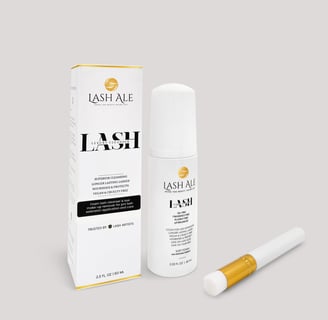 Every set of eyelash extensions needs a trusty companion cleanser to keep them looking flawless and feeling fresh. With a myriad of products on the market, it can be challenging to find one tailored to sensitive skin. Enter the Lash Ale Eyelash Cleanser - designed specifically with you in mind. Let's dive into why this is the must-have product for anyone with delicate skin.
The Need for Gentle Yet Effective Cleansing:
Eyelash extensions, while undeniably beautiful, can accumulate dirt, oil, and makeup residue. Over time, this build-up can lead to the premature shedding of the extensions and even infections if not cleaned properly. For those with sensitive skin, a harsh cleanser can further exacerbate skin issues.
Why Lash Ale Eyelash Cleanser Stands Out:
Formulated for Sensitive Skin: This cleanser is gentle, hypoallergenic, and free from any irritants, making it perfect for those with delicate skin types.

Deep Cleaning Capabilities: Don't let its gentle nature fool you. Lash Ale cleanser ensures that every lash is free from dirt, oil, and makeup, extending the life of your extensions.

No More Itchy Eyes: Many users have noted a significant reduction in itchiness and irritation after making the switch to Lash Ale.

Natural Ingredients: Crafted with natural components, this shampoo is not just kind to your skin but also eco-friendly.
How to Use Lash Ale Eyelash Cleanser:
Wet your lashes: Start by wetting your eyelashes with water.

Apply a small amount: Place a dime-sized amount on your eye or the brush that comes with it and gently brush over eyelids and lashes.

Rinse thoroughly: Make sure all the product is rinsed off. Pat dry gently using a lint-free cloth or LASH Dryer Fan.
Our Customers love it
Your eyelashes deserve the best care, especially when they are enhanced with extensions. With Lash Ale Eyelash Cleanser, you're not just investing in the longevity of your extensions but also in the health and well-being of your sensitive skin. Say goodbye to irritations and hello to fresh, clean lashes!
Ready to give your lashes the gentle care they deserve? Purchase the Lash Ale Eyelash Cleanser today and feel the difference! Lash Ale Cleanser