Eyebrows Waxing in Katy, TX - Quality & Affordable
Get the eyebrows you've always wanted with expert eyebrow waxing services from our beauty salon in Katy, TX. All of our waxing services are quality and affordable. Book your appointment today for a truly luxurious experience.
FACIAL WAXING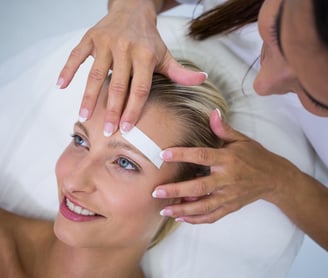 Expert Eyebrows Waxing in Katy, TX - Quality & Affordable
Eyebrow waxing is a popular beauty treatment that has gained a lot of attention in recent years. It is a quick and easy way to groom your eyebrows and achieve a polished and well-defined look. If you are looking for professional and reliable eyebrow waxing in Katy, TX, you have come to the right place.
Benefits of Eyebrows Waxing in Katy TX
Eyebrow waxing is a versatile beauty treatment that offers numerous benefits, including:
Precision: Waxing allows for precise hair removal, ensuring that each hair is removed from the root, leaving you with a clean and defined brow line.

Long-Lasting: Unlike other methods of hair removal, such as shaving, waxing provides a longer-lasting result. Your eyebrows will remain smooth and hair-free for up to four weeks.

Time-Saving: Waxing is a quick and efficient treatment that can be done in as little as 15 minutes, making it perfect for those with busy schedules.

Low Maintenance: After waxing, your eyebrows will require minimal maintenance, allowing you to spend less time on grooming and more time on other activities.
Choosing a Professional Waxing Service in Katy, TX
When it comes to choosing a professional waxing service in Katy, TX, it is important to do your research and choose a provider that is experienced, knowledgeable, and uses high-quality products. Look for a provider that offers a range of waxing services, including eyebrow waxing, and has a positive reputation in the community.
At Lash By Ale Katy, we offer a variety of waxing services, including eyebrow waxing, lip waxing, and chin waxing. Our team of experienced estheticians uses high-quality waxing products to ensure a comfortable and effective treatment. We take pride in providing our clients with exceptional customer service and strive to make each visit to our spa a relaxing and enjoyable experience.
Preparing for Your Eyebrow Waxing Appointment
Before your eyebrow waxing appointment, there are a few things you can do to prepare for the treatment. First, make sure that your eyebrows are clean and free of any makeup or skincare products. This will ensure that the wax adheres properly to the hair and skin, resulting in more effective treatment.
Second, avoid using any exfoliating products or harsh skincare treatments on your eyebrows in the days leading up to your appointment. These products can make your skin more sensitive and increase the risk of irritation or inflammation during the waxing process.
Finally, communicate with your esthetician about any concerns or questions you may have before the treatment. They will be happy to address any concerns and provide you with helpful tips and advice to ensure a successful waxing experience.
Conclusion
Eyebrow waxing is a quick and easy way to achieve a polished and well-defined look. If you are looking for a professional and reliable eyebrow waxing service in Katy, TX, look no further than Lash By Ale Katy. Our experienced estheticians use high-quality products and provide exceptional customer service to ensure a relaxing and enjoyable experience. Book your appointment today and take the first step towards beautiful, well-groomed eyebrows. Book Your Appointment Today! Lash By Ale Katy